Well I'm happy to say that after almost a week and a half of the crud/virus….whatever that I'm finally starting to feel like myself again – in fact, except for not being able to hear out of my left ear, most things are back to normal!
I was able to get over my DNS disappointment and squeeze in some family fun, a rare date night with J, some gardening and the NCAA Lacrosse Championships, along with a lot of laying low and resting — all-in-all not a bad weekend!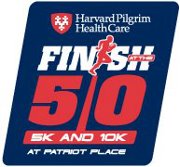 I also pulled the trigger a registered for the
Finish at the 50 – Harvard Pilgrim 10K
! The race is July 3rd (in the evening) and the finish line is the 50 yd. line inside Gillette Stadium! I'm a huge NE Patriots fan so to be able to finish the race going through the same tunnel the players use to come out onto the field before games and seeing the finish up on the stadiums screens should be a lot of fun! They're also holdings kids runs and fireworks afterwards so we'll probably make it a family affair. I was psyched to find this race, as I've wanted to try more 10ks but feel like they're getting harder and harder to find.
I've been cleared by my doc to ease back into running this week so I'm going to try to get a couple of short runs in starting tomorrow. My family will probably be as happy as I am….I'm starting to get a little edgy 🙂
How was your weekend? Any races? 
Do you feel like 10ks are disappearing?