A few weeks ago I was offered a chance to try PureFit Nutrition Bars. Given that the bars are gluten-, wheat-, and dairy-free, I was curious to check them out, as I often have trouble finding things that will agree with my stomach.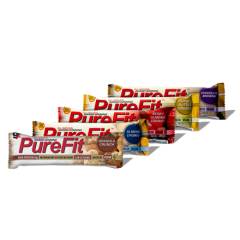 Here's what PureFit says:
(from the PureFit website)
"Kosher-certified and vegan-approved PureFit bars do not contain dairy, wheat, or gluten, and will not melt in their packaging. PureFit works diligently to provide high-quality, award-winning nutrition bars without artificial ingredients, sugar alcohols or common allergens, including milk, wheat or gluten.
100% All-Natural Ingredients, 18 Grams of Soy Protein, Non-GMO Soy, Unprecedented Great Taste. This low glycemic, nondairy bar is based on over 20 years of research and was not practical to manufacture until now. It offers:
NO Hydrogenated Oils
NO Animal Products – Vegan
NO Cholesterol or Trans Fatty Acids
NO Wheat or Gluten
NO Artificial Sweeteners
NO Hidden Carbohydrates
NO Sugar Alcohol"
Here's what I say:
I used them pre-and post-run and as a meal replacement and I had absolutely no stomach issues with them.  
PureFit offers 5 flavors: Almond Crunch, Berry Almond Crunch, Chocolate Brownie, Granola Crunch and Peanut Butter Crunch. My favorites were the Granola Crunch and Peanut Butter Crunch. I was not a big fan of the Berry Almond – though I'm not really fond of anything with a cranberry or raspberry vibe. 
Given the consistency of the bars, you should make sure to have a glass of water on hand when eating one.
An all-natural bar that tastes good and leaves my stomach feeling fine is a big win in my book!
Interested in trying PureFit bars for yourself? Use the coupon code PROMO25 when you place an order and receive 25% off!
*Disclaimer: I was provided five bars by PureFit to sample and review. The opinions expressed here are my own and I did not receive compensation for this review.