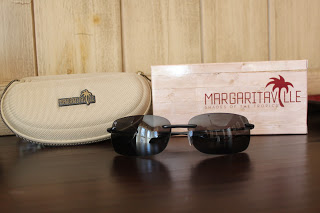 A little over a month ago I was contacted by Margaritaville Eyewear to see if I was interested in trying out a pair of their new polarized sunglasses. One quick scan of their site, and I was in!
I selected the "Down Island" style and they shipped them right out to me. Before I had even opened the box, the first thing I noticed was how ridiculously light it was! The glasses came in a sturdy case, along with a protective sleeve and neck strap. The frames are whisper thin, so light in fact that I wondered how they'd stay in place during a run.
           Here's what Margaritaville says about their frames: 
The new Ultralight Margaritaville Proprietary Composite Material acts like metal, yet feels like plastic. This revolutionary ultra lightweight material has all the amazing durability aspects of titanium, without the weight, brittleness or heat conductivity.
They instantly felt good on, but of course the real test was to run in them. Well, let me just cut to the chase here – it was LOVE at first run! I have run in these glasses non-stop, including in both of my recent races. They stay in place and are so lightweight you truly forget you have them on.
What they say about their lenses:
 All Margaritaville polarized sunglasses feature premium fused polarization technology.  MPT Fused lenses diffuse glare through the use of an integrated, pre-formed polarizing filter, layered within the injected lens, allowing incredible clarity even in the harshest conditions.
Here's what I say — in bright sunlight, overcast mornings, and serious wind these glasses have performed flawlessly — the lenses are super clear and don't fog up!
Yeah it's safe to say, I like them just a little 🙂 They're definitely keepers!
Disclaimer: I received the glasses from Margaritaville Eyewear, but the opinions expressed here are completely my own