I had a lot of fun yesterday – despite the heat & the cranky ITB! The Tufts 10k for Women is a fun event – there's a great spirit and energy to it that was on full display yesterday!
If you saw my quick post yesterday morning than you know I was going into this race with no idea how it would play out – I was just going to go run and see what happened. Did I mention that it was 82 degrees and a 12 noon start?
This was my friend E's first 10k so we headed in together and got to the race with an hour to go before the start. We hit the porta potties, stretched and chatted and hung out until they called the seeds to start lining up.
The race announcer made a point of telling us that the temperature had climbed 2 degrees just in the time it took us to line up! (Fabulous!) Tufts is the USTAF 10k Women's Championship so there were lots of cheering as the elites were introduced. But I think the biggest cheers came when the group of women who have run this race every year since it's inception (35 years!) were acknowledged! 
E was remarkably calm – I remember being so nervous last year for my first 10k! We had already discussed how we would manage the race – she had told me that she wanted to focus on running her own race and not worry about holding me back. So we hugged as we shuffled towards the start and then we were off.
Did I mention it was HOT?! Yeah…it was.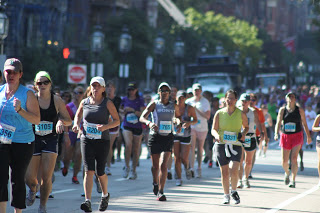 The first mile was a nice flat stretch with, most importantly some shade. But ohh those middle middle 4 miles, we were baking along the Charles River! The water stops were very chaotic – the volunteers seemed overwhelmed by the number of runners looking for water – there were crowds and you literally had to come to a dead stop, work your way through to get water and then work your way back out of the crowd…clearly not ideal! But the runners were great – passing cups to each other, some stopping to pour water for others, making jokes, just making the best of it. Gratefully, partial shade returned at mile 5 and thru to the finish.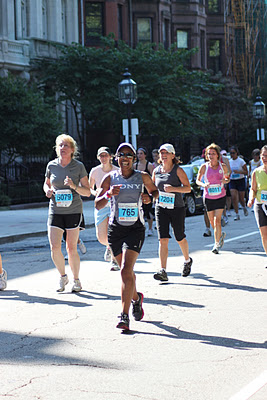 As I planned, I just ran by feel – sometimes my pace was good and sometimes the combination of the heat and my ITB told me to slow down and just take it all in. And I did – I chatted with other runners, encouraged where I could, thanked volunteers, rocked out to my tunes, high-fived the kids on the route and tried to enjoy the ride. Once again my family was out on the course cheering and I found E's family along the way as well.
As I hit the final stretch to the finish, the race announcer was actually urging runners to not sprint in because of the heat – trust me, not an issue for me at that point 🙂 Joan Benoit Samuelson was once again greeting runners at the finish line, and I got a high five again from her. Such a great touch to the race! I made it through the finishers chute, hit the water and food tables and circled back around to find E – she looked great and seemed to have had a good time!
We eventually found each other and my family. We took pics, did a quick sweep of the expo and then my boys let it be known that lunch was long overdue, so we headed for the cars.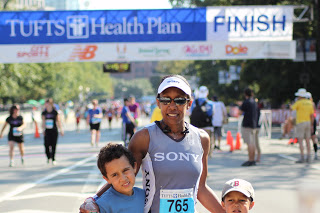 Love this pic – just wish my little guy's head wasn't cutoff!
All-in-all a good day. I would love to run Tufts again next year, but this time really "race" it. With the new course design (flat start vs. the downhill with a sharp turn at the end of years past) and more traditional fall weather, it would be really fun to see what I could do at this distance. But isn't that one of the beauties of running, there's always the promise of "next time?"