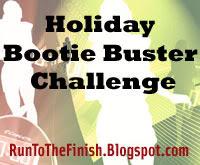 This weekend marked the kickoff of the Holiday Bootie Buster Challenge courtesy of Amanda at Run to the Finish.  I got my Challenge started with a killer Pilates workout on the reformer on Saturday and a chilly 5.3 mile run on Sunday. I'm hoping to rack up some Challenge points this week with some Pilates, a little Yoga and at least a couple of runs. There are over 300 of us taking part in HBBC – if you haven't signed up yet, check it out HERE!
For added incentive this week, I'll be Feeding the Turkey!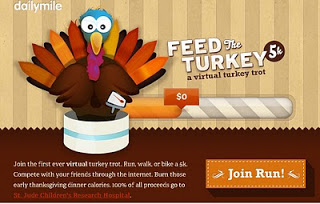 Feed the Turkey is a virtual 5k Turkey Trot to benefit St. Jude's Children's Hospital — they'll receive 100% of the donations!  Want to trot for a good cause?  Visit http://www.dailymile.com/turkey_trot to sign up and make a donation and then on Thanksgiving Day run (or walk) your 5k anywhere you happen to be! Dailymile will be handing out prizes to a few lucky winners, but best of all you'll be helping St. Jude's Children's Hospital which is the #1 children's cancer hospital! (By the way, you can participate whether you have a Dailymile account or not.) So sign up and spread the word!!