My first race report — feels so good to say that!
Quite simply, I had so much fun this morning!
The whole family was up and out fairly easily this morning. The boys were really excited to go cheer on mom and while I was initially a little nervous when I first woke up, I quickly got swept up in their enthusiasm. My goal for the day was to just enjoy the whole experience and have fun! This sentiment was summed up in my choice of t-shirt which said "Breathe Deeply. Appreciate the Moment."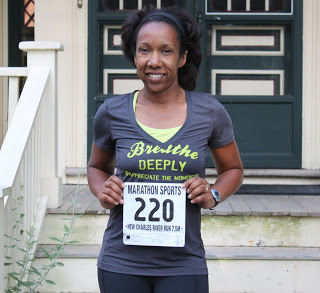 Once we got to the race, I kissed the boys & hubby goodbye and joined the masses heading to the starting line. While waiting for the race to start I chatted with several runners – whenever they heard I was a newbie runner everyone was so encouraging and positive. It was a great atmosphere! They were a little slow getting the race started but when the start was finally announced, everyone let out a big cheer and we were off!
I was really worried about going out too fast, especially with such a flat course, but it didn't take me long to get into a comfortable pace (thank goodness for the playlist I created last night!).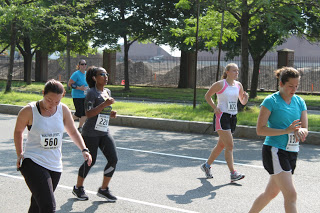 It was great seeing my guys cheering as I reached the first mile marker. I swear there's no better sound than the kiddos yelling "Go Mommy Go!"
I was psyched about how good my left leg was feeling – the kicker for me was the heat. The sun was so intense – it was pushing 80 degrees already! About half way through I was wishing I had worn my visor just to help keep the sun from beating on my forehead.
When we made the last turn, I could see where we had parked and knew I was close to the end – time to push. I had promised myself to finish strong!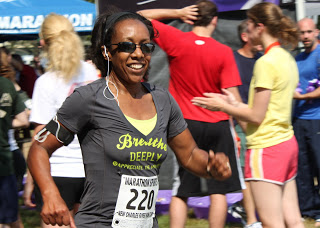 (I love that my hubby caught me smiling here – I had just spotted my guys near the finish)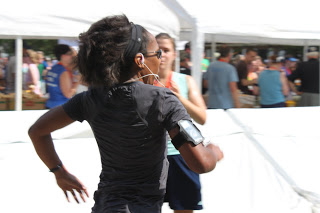 (The only other minor negative of the day apart from the heat, was that the race timer was not working properly so the "official race times" were off — good thing I kept my own time on my watch!)
After the race, I milled around chatting with other runners in the food line and with some of the sponsors. I ended up talking with reps from EAS Myloplex about what makes a good post-workout drink.  I had brought the new Gatorade Recover 03 with me to the race but it was unbelievably sweet and I just couldn't drink it! I tried the Myloplex Lite Chocholate Cream and really liked it.  The reps even asked me if they could take a picture of me holding the product in front of their booth – of course I said yes! How fun!
As we headed home, I just felt very satisfied. It was so cool to set a goal like this and have it realized in a few short weeks! So I have my first finisher medal and must admit I'm thinking about my next race….I might be hooked!