I love this week between Christmas and New Year's Day – there's always some great time to hang out with the family, time to reflect, and time to plan for the new year.
While I'm still tweaking my goals a bit and will share those soon, today I'm sharing my annual look back at my top 5 posts for the year. It's always interesting for me to see which posts generated the most interest  – so here are my top 5 for 2017 (according to Google Analytics):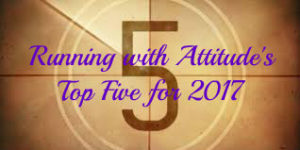 5 Tips for Running on the Track — While the track is my favorite place for speedwork, it surprised me that this post from the summer continues to have the highest page views.
Running with Kids  — This is actually a post from 2014 but makes the list every year. Sharing my love of running with my kids has been a big part of my running journey, and it makes me smile to know that others are looking to share running with their kids too.
Runfessions of an Injured Runner — This was a hard post to write cause I had to admit that I was too injured to train for my fall goal race.
5 Benefits of Planking — Clearly I'm not the only one who believes in the power of planking as this is another post that continues to draw views.
Five Tips to Become an Early Morning Runner — Honestly, I've been struggling to get out of bed lately so I may need to re-read this one!
Given that this year's top 5 were all Friday Five posts it seems only fitting that I'm linking up with and Rachel and Lacey & Meranda for the Friday Five link-up!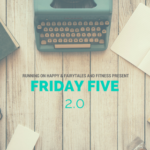 Thanks for sharing in the fun around here this year!