When I saw that this week's #FridayFive link-up topic was Fall Races, I was tempted to skip posting. Racing has been such a moving target for me, between injury and conflicts with my family schedule, that I'm almost hesitant to count any race as a sure thing at this point. But, if you've been around here for a bit then you also know how much I love a fall race….so here's what I'm hoping for at the moment.
1) #StripAtNight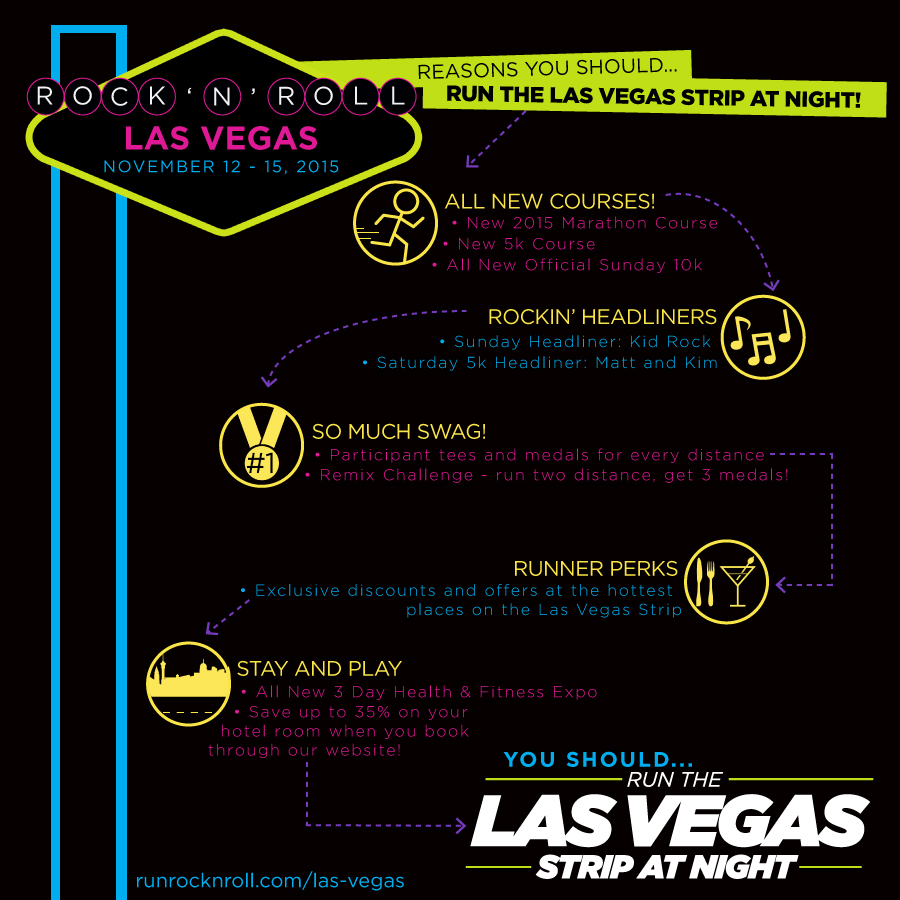 This is my one and only definite race…well it's actually two because I'll be doing the Remix Challenge (5K and Half). My husband and brother are running with me, and I just saw friends yesterday who confirmed they're in! I've been waiting all year to get to a Rock 'n' Roll race as part of the Rock'n'Blog team – and, well c'mon it's Vegas! And, speaking of the Rock'n'Blog team, we were just given special codes for a Vegas discount – use code RUNATTITUDE015LV and you can do either the half or the full for $145!
2) Still Rockin' — Staying with the Rock 'n' Roll theme for a minute, I'm still hoping to get to RnR Philly at the end of October, but family conflicts are starting to crop up from all sides…keep my fingers crossed. But, if schedules don't work, then I'll be looking at finishing up my 3-race Tour Pass by heading to San Antonio for #RnRSA the first week of December.
3) Tufts 10K for Women is one of my favorite Boston races. It's always held on Columbus Day, which means it could potentially come in conflict with the boys' sports schedules/tournaments – it's happened before, but if I'm free this is always a great race!
4) Canton Fall Classic is another local favorite – I usually run the 5K and my husband J runs the 10K. My son is thinking about running it this year…so once again as long as schedules don't collide, this could be a family race.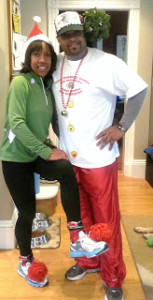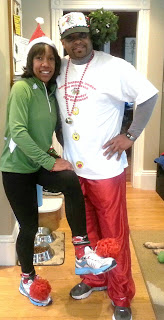 5) Jingle Bell Run — OK this one may technically be a "winter" race as some years it falls on the weekend before Christmas. As you can see from the picture of my brother and I on race morning, this one's all for the costumes and post-race beer fest. (And, yes that is a giant ball of mistletoe on his hat!) 🙂
Do you find your race schedule is pretty well set or is it a moving target?
(As part of the Rock'n'Blog team, I receive a 3-race Tour Pass. If you want to add a RnR race to your fall schedule, don't forget to use my code on my sidebar for a discount (or the code above for Vegas!)
I'm linking up with Courtney, Mar, and Cynthia – be sure to stop by to check out where they'll be racing this fall!