Last Sunday I wrapped up my 2012 racing season with the always fun Jingle Bell Run! This time I got to run it with my brother — it was his first 5k and I was so psyched to run it with him!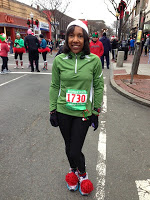 I had run this race last year with J and my friend E and I swear we were practically the only ones not dressed in some form of costume.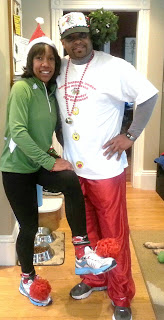 Well, after telling my brother about the range of outfits from last year, he decided if he was going to to do this he had to get into the spirit of it. During the week leading up to the run, as I heard about his planned race outfit, I knew I'd have to get in on the act. So with the help of my trusty adviser (aka my 7 year-old) and a trip to Target, I put together a respectable showing 🙂
(These pictures don't really do our outfits justice. You can't see my light-up bracelets or the sparkle that covered my Santa hat. And, yes that is a giant ball of mistletoe on my brother's hat – it was a big hit along with his shirt that said "What happens under the mistletoe stays under the mistletoe")
The race itself once again did not disappoint – it was a lively group with some really creative costumes! My brother had said his goal was to just "finish under my own power" and to have fun doing it. We had a good time laughing at the sights, and it was fun to just go out and run without any concern for time.
Medal/Bottle Opener!
All -in-all a great day and best of all my brother's talking about his next race!