It's been a couple of weeks since I last joined Holly & Tricia for the Weekly Wrap – How'd I let that happen?! Kim is this week's guest host so be sure to stop by and say hello!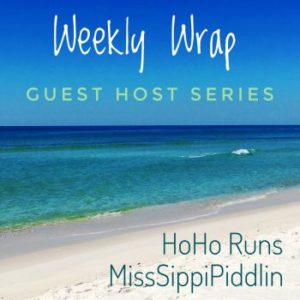 As I mentioned in my June goals, I'm not following a training plan at the moment – just kind of taking workouts as they come. So how did this week go?
Monday: Yoga and chiro visit. Based on the feedback I gave my chiro, he thinks I'm progressing nicely so we're going to see if I can get to the first week of July before my next appointment!
Tuesday: I usually run on Tuesdays, but the combination of a torrential downpour most of the day and a crazy work day, made it easy to push this run to Wednesday.
Wednesday: We finally got a break in the rain, so I celebrated Global Running Day with a 3-mile run.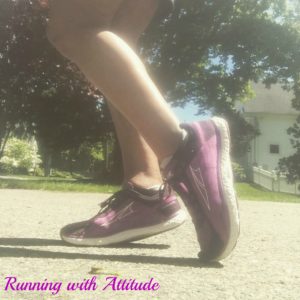 Thursday:  Strength work – my usual focus on hips, glutes, and abs, followed by some trigger point work with my massage therapist.
Friday: Since I ran Wednesday, I'd plan to run Friday…but remember the never-ending mulch pile in my driveway? I decided I just couldn't look at it any longer, and I knew with our town's big lacrosse tournament this weekend if I didn't tackle it then it would most likely still be there on Monday. So I spent a couple of hours hauling mulch around and I'm happy to say the pile is gone! Talk about a total body workout!!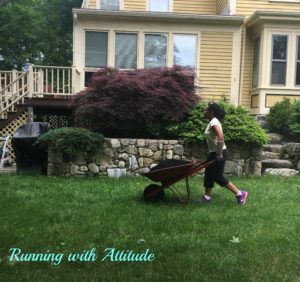 Saturday: The whole family spent the day at the lacrosse tournament – we left the house by 7:30 and didn't head home until close to 6 pm! And, did I mention the temps jumped to the high 80's? Yeah, we were all toast!
Sunday: Being on my feet all day Saturday took its toll, but I really wanted to get a little run in before day 2 of the tourney. So I tacked on another 3 miles.
As you can see, there was not much running this week and I'm totally fine with that. Temps are supposed to hover in the 90s for most of this week so I'll be pushing the clock back to run as early as possible – otherwise, there will be a lot of cross-training this week 🙂
How do you fair when not on a training plan?