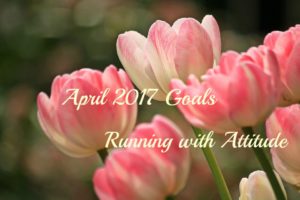 I feel like I was a bit all over the map in March fitness wise, so I'm throwing down some goals for April.
Hit every workout — There's not a lot of white space on my April calendar so I'm going to need to do whatever it takes to get my workouts in. Early morning, post-work, lunchtime runs, etc. – I'm committing to not missing a workout on my training plan.
Run 100 miles — If I follow through on goal #1, this should be doable.
Continue my plank challenge — While I did plank daily in March, I fell off my goal of 5 minutes/day, so I'm going to shoot for that in April.
Weekly yoga — I mentioned in last week's wrap-up that I want to commit to a weekly session, so I'm doing it.
Meal plan — I'm great at regularly planning each week's dinners, but I've been totally winging it on breakfast, lunch, and snacks. My choices over the past few weeks haven't always been the best, as evidenced by the numbers creeping in the wrong direction on my scale, so time to fix that!
Do you set monthly goals? How was your March?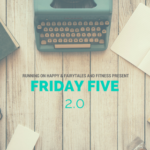 I'm linking up with Rachel from Running on Happy and Lacey & Meranda from Fairytales and Fitness for the Friday Five link-up!