Last weekend I was on the road once again for a race weekend – this time it was Vegas! Ah and what a weekend! Meeting Meb, Snoop Dogg in concert, some great food (and cocktails), blogger meet-ups, not one but two races, and running the Vegas strip at night – much fun was had for sure…so without further ado…settle in for my recap.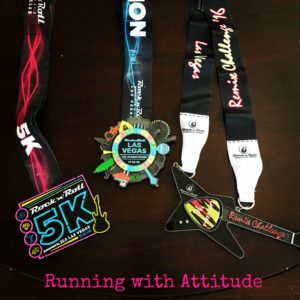 (Disclosure: As a member of the Rock'n'Blog team, I received a free race entry for the Remix Challenge. As always, all opinions are mine!)
Both my husband and brother were joining me for this trip. We arrived in Vegas by mid morning, got an early check-in at the hotel and grabbed lunch before heading to the expo. Packet pick-up was a breeze and we were quickly wandering the aisles of over 80 expo vendors. There were a lot of good deals, but we didn't go too crazy. I couldn't wait to pick up the awesome #Werunsocial t-shirt I had pre-ordered!
The highlight of the expo was meeting Meb at the Rock'n'Roll booth! We hadn't heard the announcement that he was going to be there – I spotted him purely by chance. Meeting Meb was awesome! He was so gracious – we chatted about his book (you can check out my review here) and I did my best to not go totally fan-girl on him. A hug, photo and an autographed bib – yeah my race experience was complete and I hadn't even toed the line yet!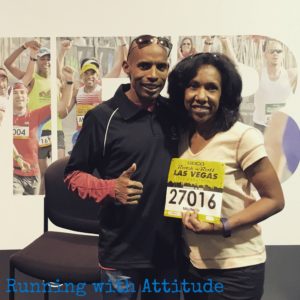 The rest of the day was spent doing way too much walking taking in the sights of the strip. We capped the day with an amazing dinner at Yardbird Restaurant (definitely worth a visit!).
We took advantage of sleeping in Saturday morning before grabbing brunch and heading up the strip to scout out the 5K location. The race didn't start until 6 p.m. and the three of us found it a little hard to manage the day and not do too much. The crowds heading up to the race were crazy – we had to let 3 monorails go before we could squeeze our way on one. I don't think I've ever seen so many people lining up for a 5K! People did not self-seed well and there were way too many walkers up front. My brother and I did what we could to run when we could find open space, but in many places the course narrowed and we were just stuck behind a wall of walkers. We certainly weren't out there to worry about time so we just went with it  – first half of the Remix Challenge done! Off for another great meal – this time at Guy Fieri's Vegas Kitchen & Bar.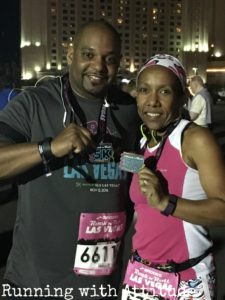 Sunday morning started with a great brunch at Margaritaville's roof deck. A perfect spot to watch the closing of the strip and pre-race set up. We hung out and watched football, again trying to lay low and not do too much. I just have to say late day races for me are hard! Finally it was time to head to the race. The guys were doing the 10K so we said our goodbyes at the monorail station and I headed off to hit the Snoop Dogg headliner concert and the We Run Social meet-up.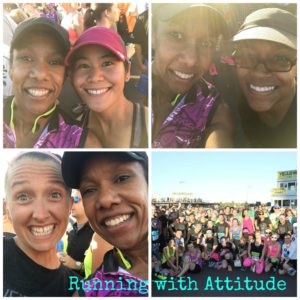 There were so many of us for the meet-up we barely all fit in the photo! It was great to meet so many bloggers including Sharon, Kim and Carlee. Snoop Dog played all of his big hits and really had the crowd going.
I was in the Yellow start so I had a fair amount of waiting to do until they called us to the start. The corrals were a hot mess and as I chatted with others waiting to shuffle to the start I reminded myself the goal for this race was simply to have fun – there was no time goal. Running the Vegas Strip was pretty amazing and the energy was great! The only lull was the loop of miles 7 – 9 where we were running through "old Vegas" and some random neighborhoods. You could definitely feel the runner energy drop at this point and I could definitely feel the whirlwind days catching up with me. Luckily we were soon back at the top of the strip and heading towards the finish line.
Final thoughts…
This was one fun race weekend! There is nothing quite like running down the middle of the Vegas Strip at night – definitely one that every runner should experience.
If you do run Vegas, know that this is not the race for a PR. You've got to go into it just looking to have fun and enjoy the experience.
If you can tack on an extra day, I would recommend post-race so you can fully celebrate Vegas-style 🙂
The Vegas pre-sale of just $99 for 2017 is on until midnight tonight…just sayin' 😉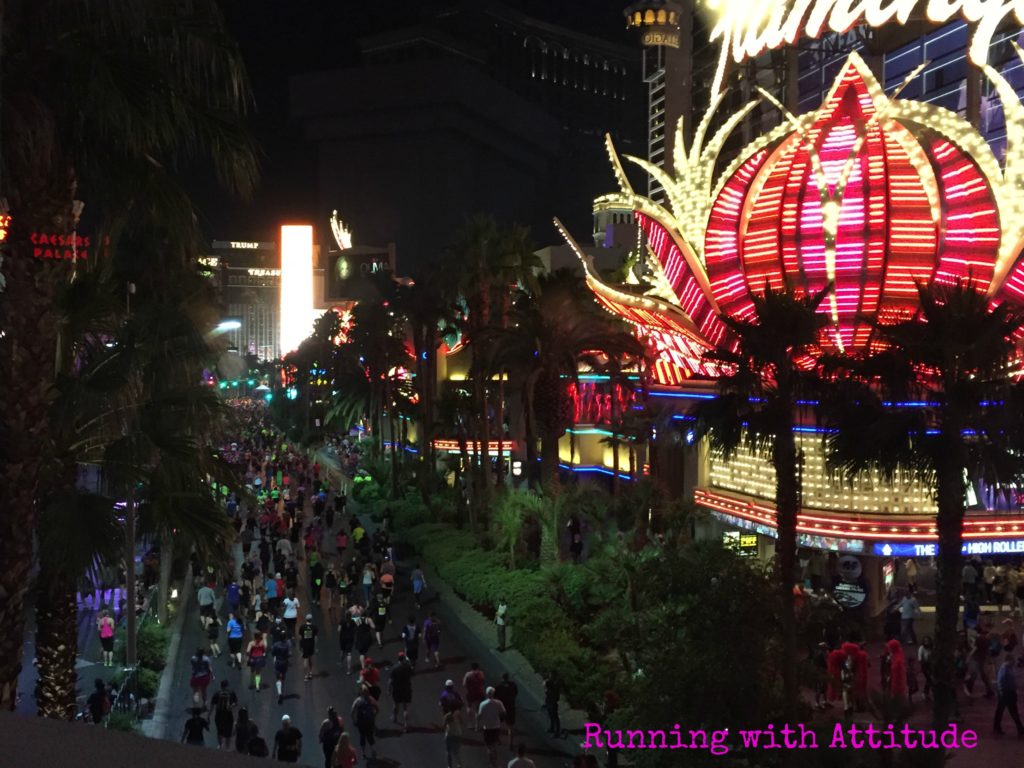 I'm linking up once again with Holly & Tricia for the Weekly Wrap!