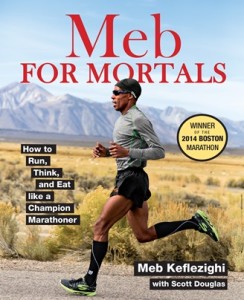 A few weeks ago Runner's World contacted me about a chance to read and review an advanced copy of Meb Keflezighi's new book – Meb for Mortals: How to Run, Think, and Eat Like a Champion Marathoner. I'm a huge Meb fan so this was a very quick and easy yes on my part! All opinions expressed here, as always, are my own.
I still remember how thrilling it was to watch last year's Boston Marathon. My family and I try to go every year to cheer runners on. As the men's race unfolded, I remember being glued to the set refusing to run the risk of missing history by being in the car driving up to one of our favorite spots in Newton. So we waited and watched as Meb ran an amazing race for the ages, and became the first American man to win Boston in over 20 years. After such an emotional year following the bombings, there was nothing more fitting than seeing an American win. And, of course, everyone wanted to know, how did he do it? How did he beat such a talented field and all just before his 39th birthday?!
In Meb for Mortals, Meb explains this is exactly why he wrote this book – to share how his philosophy and preparation helped him to come out on top. But more importantly, through this book Meb doesn't just speak to elite runners, but to all runners — to help runners at all levels to improve.
The book is broken down into 9 chapters:
Chapter 1 – Think like Meb
Chapter 2 – Run like Meb
Chapter 3 – Train like Meb
Chapter 4 – Race like Meb
Chapter 5 – Eat like Meb
Chapter 6 – Strengthen like Meb
Chapter 7 – Stretch like Meb
Chapter 8 – Cross-Train like Meb
Chapter 9 – Recover like Meb
While I think you should read the book cover to cover, the book's set up makes it very easy to jump around to the topics that interest you most. For me, I loved the fact that he begins with the mental side of running. Meb says that there are three key things that determine your long term running success – good goals, commitment and hard work. And, as he points out at the opening of Chapter One:
"Only one of those items is physical. The other two are psychological. That's how important I think the mental side of running is."
There is so much good stuff in this book – lots of nuggets of wisdom for runners at every level. So before I go on and on, let me say simply, Meb for Mortals is definitely worth adding to your running library. (You can buy the book here.)
Will you be watching Meb defend his Boston Marathon title? What's your favorite running book?