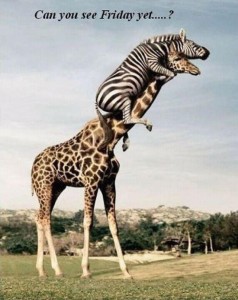 This has been one crazy week…(and it's not over yet!)
…the kind where you try to juggle work and a sick kiddo. My oldest son was hit with a virus on Saturday and was down and out until making it back to school on Wednesday.
…the kind where it's 3:00 and you realize you forgot to eat lunch – happened more than once this week…not good!
…the kind where you finally get an appointment with a sports med doc, only to get caught in a crazy traffic jam and you have to reschedule (Found out later that the traffic was caused by a car fire…luckily no one was hurt!)
…the kind where you tear the house apart trying to find your sunglasses, only to then realize they're on top of your head (Please tell me I'm not the only one who's done this?!)
Yep it's been an interesting week so far…but I have a massage scheduled for later today, so it's all good 🙂
How's your week going? Have you ever forgotten to eat?

I'm linking up today with Amanda for Thinking Out Loud.