Welcome to the April edition of Runfessions – a chance to share your confessions about your runs, swims or gym time. Link up with Marcia from Marcia's Healthy Slice and join us!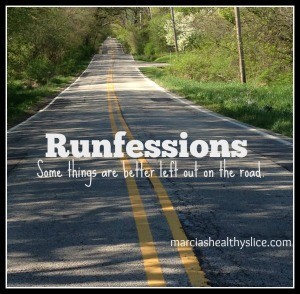 Runfession #1 — I continue to enjoy my strength workouts and time in the gym far more than my runs and that's fine with me. I know that my body needs to get stronger before I start really piling on the miles.
Runfession #2 —  Given that my weekly mileage is still on the lower side, I'm seriously leaning towards dropping down from the half to the 5-miler for the upcoming Run to Remember. I know what being in half marathon shape feels like and I'm not there yet…but I will be.
Runfession #3 — While I know the strength training is going to pay off, I'm still feeling very restless about my running – like it's time to do something different…maybe try a new way to train. Do you ever feel that way? I just listened to the Another Mother Runner podcast on heart rate training and I'll admit I'm a little intrigued.
Runfession #4 — Actually I guess this one is more of a gym-fession…I dealing with a eavesdropper at the gym. There is this woman who always happens to be in the same section of the gym as my trainer and I and I swear she spends the whole time listening in on the instructions from the trainer instead of working out.  I watched her do it the other day to someone else who was also working out with a trainer. I feel like if she's going to listen in that closely, perhaps she ought to chip in for the cost of the session, don't ya think?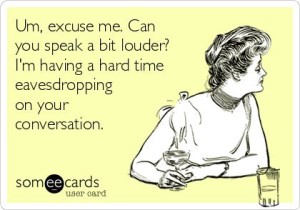 Runfession #5 — And speaking of gym crazies, last month I mentioned the guy who's been coming to the gym and working out in jeans. I hadn't seen him in weeks, but and behold he showed up the other day…and yes in jeans again. I confess it took all of my self control to not ask him about the jeans!
OK so now it's your turn….what do you run-fess?  Ever deal with a gym eavesdropper?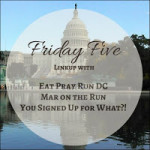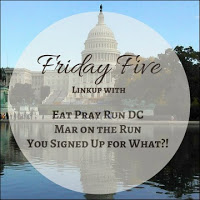 I'm also joining Courtney, Mar and Cynthia for the Friday Five