It's that time again…last Friday of the month so I'm joining Marcia again for another edition of Runfessions – a chance to cleanse your sweaty soul!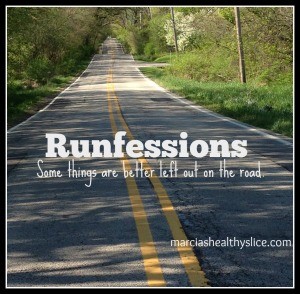 Runfession #1 — Cherry Blossom training was suppose to begin this week… but didn't. I'm still in the run/walk, knee-watch phase…and right now 10 miles seems so far!
Runfession #2 — Thanks to Juno and more snow on the way today, I probably won't be seeing too many outdoor runs in the near future. With no place to put the snow, the roads are very narrow and on some of my favorite routes, sidewalks are non-existent. The thought of treadmill-only running does not bode well for my training plans.
Runfession #3 — I have to admit I'm much happier on my strength training days vs. my run days – maybe because I feel like I'm seeing more progress.
Runfession #4 — Or maybe this should be labeled food-fession…Let's just say I stepped on the scale recently and there are 6 pounds or so that need not be there. Time to lay off the comfort food! 'Nuff said there.
Runfession #5 — Due to my work schedule I didn't sign-up for the current 12-week session of my favorite Pilates barre class and I miss it terribly! I may have to break down and try the Pilates classes at my new gym just so I don't go through complete withdrawal.
There…I feel better now! What's your runfession?