I have not run since last Tuesday and I'm starting to get cranky!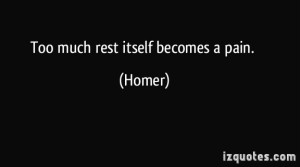 By Friday morning I'd come to the decision that with just 6 weeks until my December half, I didn't want to risk further injury running the local 5K. I had to admit to myself that my foot was still sore and rest was the best bet. A conversation with Coach Bennett and a review of the upcoming training plan confirmed that this was the right call.
But I can't take it any more – I've run a grand total of 9.55 miles since the B.A.A. Half. At first I really welcomed the days off, but that only lasted a couple of days… then I started to get edgy. My hat is off to those of you who have sat on injured reserve for much longer! I'm grateful to be able to head back out this morning.
What's the longest you've gone without running because of an injury?