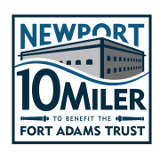 "It was the best of times, it was the worst of times."
This is how I started my email to Coach Bennett to let him know how the race went (my apologies to Charles Dickens) – pretty much sums up this race day.
A couple of weeks ago I ran the inaugural Newport 10 Miler with my running buddy E. Let's just say this run did not go as I had hoped — in a nutshell, my stomach mysteriously decided to not cooperate just a mere 2 and half miles into the course. I have no idea what set it off because I have become boring and predictable in my pre-run/race fueling. But,  it was not happy and any attempt at picking up the pace was met with serious discomfort….not a great way to spend the remaining 7.5 miles!
By the mile 4 water stop, I was walking – I urged E to keep going saying I would catch up. And while I kept her in my sights for the next 2 miles, by the mile 6 water stop I did something I've never done in a race before – I came to a deadstop! Not good! This race really was a mental battle – there was a lot of self talk going on – I used every mental game I could think of to will myself through those final miles.
So what about "the best of times" part?
The course was beautiful! Seriously Newport is a beautiful spot to run – we were either along the water or running among the mansions. The wonderful scenery helped to be a much needed distraction.
A chance to meet-up with these wonderful ladies is always good!
Got to finally meet the lovely Kim, co-leader of Black Girls Run Boston.  She hung out with E & I at the start and best of all I spotted her with just over a mile to go – she became just the focal point I needed to push hard and we ended up crossing the finish line together!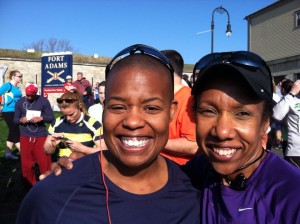 Despite my stomach distress, the rest of me felt really good and still managed to will myself to tie my 10-mile PR! And while I wish I had been able to run every step with E, she absolutely rocked this race and is now talking about joining me for a half marathon – so proud of her!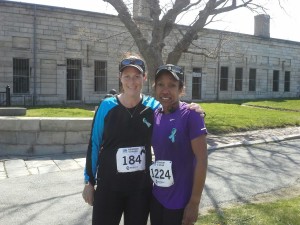 The race itself was a good one – a couple of first year kinks like running out of some of the post-race food and poor planning on the t-shirt distribution…but those were minor. They were super-responsive to questions pre-race; it was a beautifully laid out course; and, they had a great group of enthusiastic volunteers at every water station. I will definitely be back to run this one again next year!