If you've been around here for a bit then you know that I'm a fan of planks! In fact, one of my goals for the month of April is 5 minutes of daily planking (and no…not 5 minutes straight – I break the 5 minutes into intervals).
Everyone can benefit from strengthening their core – especially runners! So if you haven't jumped on the plank bandwagon yet, I thought I'd share with you some of the benefits of planking!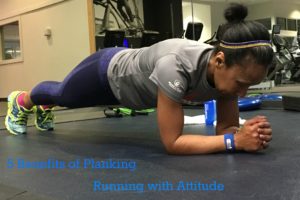 Target many muscles in one exercise: Planks engage every core muscle from transverse abdominus to the rectus abdominus; from the external obliques to the glutes.
Big payoff, small investment: Planks don't require a lot of time, but can offer a big payoff by strengthening so many key muscles relatively quickly.
Improved posture: By engaging and strengthening all of those muscles, planks will help improve your posture. As your abdominal muscles activate they share the burden with your back muscles of holding you upright. When your abs are stronger, you sit and stand with your vertebrae stacked – so the added benefit is you're less likely to develop pain in your neck and shoulders from slouching. Who doesn't want to stand (or run) taller?
Increased flexibility: Planks help to increase or maintain flexibility by expanding and stretching the muscles around the shoulders, collarbone, shoulder blades, and hamstrings.
Better movement: By strengthening your core, planks help your stabilization and train your body to move better as a unit – your muscles work together, which means you move more efficiently overall.
Why runners should add planks to their routine #runchat #fridayfive
Click To Tweet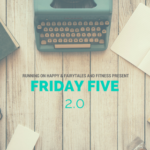 I'm linking up with Rachel from Running on Happy and Lacey & Meranda from Fairytales and Fitness for the Friday Five link-up!