Recently this showed up on my doorstep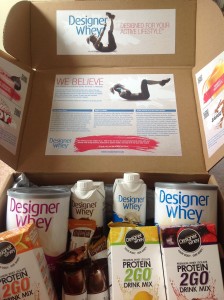 The folks at Designer Whey sent me a crazy array of their products to try! I was expecting to receive just one of their protein powders – instead they sent protein bars, ready-made shakes and Protein 2Go drink mix, in addition to two protein powders.
I've mentioned here before that one of my goals for 2013 is to get a better handle on my nutrition. And now that I'm finally feeling like I've got a handle on my fueling during a run, I've started to turn my attention to what I'm eating during recovery.  So getting to try out these products came at a great time for me.
Over the past couple of weeks I've had a chance to try everything — and the verdict….love them!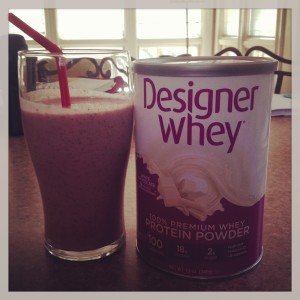 I  immediately started with the protein powders – 18g of protein, only 100 calories and naturally sweetened with Stevia. I received both French Vanilla and White Chocolate – they both had good flavor, but the White Chocolate became an instant fave! I was initially concerned it might be too sweet, but it had a yummy creaminess that worked well with my usual smoothie add-ins (unsweetened almond milk, chia seeds, almond butter and frozen strawberries, bananas and cherries)  without being overpowering. It has quickly become a favorite post-workout recovery drink.
My husband J got in on the act sampling the protein bars. We had three flavors to try: Peanut Butter Crunch, Triple Chocolate Crunch and Chocolate Caramel Crunch. Quite simply these bars are so good! They're 160 – 170  calories with 10g of protein and other vitamins. Designer Whey packs a lot into these bars including a lot of flavor!
 My favorite was the peanut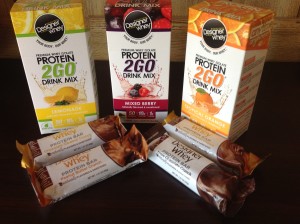 butter, while J really liked the triple chocolate – he said it tasted "like a real chocolate bar not at all waxy."
 The last item I received was the Protein 2Go. Designer Whey sent all three of their flavors: Lemonade, Mixed Berry and Tropical Orange. You just pour one of the packets into about 12 – 16 oz of water and shake. I thought these mixes offered a nice refreshing drink with the added benefit of 10g of protein plus B-Vitamins and Vitamin C. I really like these have no artificial sweeteners or flavors, and the packets are easy to carry with you anywhere. I think these will be particularly good in the summer months served ice cold!
A big thanks to the folks at Designer Whey – I'm happy to have discovered their products as they'll now be a part of my recovery nutrition strategy.
What's your go to recovery foods/drinks?
I received these products as a FitFluential Ambassador. All of the opinions expressed here, as always, are my own.