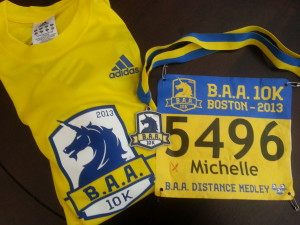 Sunday I ran the second race in the B.A.A.'s Distance Medley – the B.A.A. 10K!
Since my cheer squad was a little tired from a full day Saturday capped off by watching the Bruins' game, I headed into town solo for this race 🙂 Parking was easy and I was just steps away from the start/finish line.
I had tweeted with Nicole & Amy the day before and our plan was to meet near the bag check – well best laid plans….there were so many runners and I couldn't find them. Luckily as I was heading to the corrals, Amy's husband spotted me! Amy and I got a chance for a quick hello and her hubs snapped a pic before I left them to head to the 4th wave group.
It was so hot waiting in that sun for the race to start! We had a moment of silence in honor of those lost in the Marathon bombings and then the runners were encouraged to join in the singing of the National Anthem – it was a very special moment to have all of us singing!  I chatted with a couple of the other runners as we started to shuffle our way up to the start and tried not to think about how hot it was going to be on the course. And then finally we were off!
As expected finding space to settle into a comfortable pace at the start was hard – truthfully things never really opened up, I ran in a crowd for most of the race.  I had a really nice surprise as I made my way up Comm Ave – my dad had come out to cheer me on! He knew J and the boys might not make it and he wanted to me to have someone on the course 🙂
The route took us out through Boston's Back Bay to Boston University where we made a hairpin turn and then headed straight back. I like out-and-back courses as it gives you a chance to see and cheer the lead runners. The heat was really draining – I am clearly not acclimated yet! But the runners and volunteers were great and made the whole experience a good one. I won't lie though, by the time I spotted my dad again and he yelled out "One more!" I was so ready to get that last mile done! In fact my last mile was my best split on the back 5k – I was so happy to cross to cross that finish line! I had a quick cool down, jumped in my car and headed home in time for a late breakfast.
So race #5 in my quest for 13 in 2013 is done. Next up is the Finish at the 50 at Gillette Stadium – I was planning to run the 10K but after yesterday's heat I may aim for the 5K instead 🙂