From time to time, I have mentioned here and on Twitter that I meditate, and I've noticed that whenever I do I receive lots of inquiries about why I do it? Do I see any real benefits? Or, comments indicating that others would like to do it but don't have the time, or have tried and failed.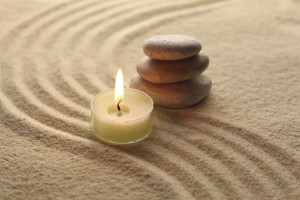 For me, meditation gives me a chance to connect with myself before the demands of the day take hold. When I meditate I'm calmer, more grounded, and as a result, more present in the moment.
Notice I said when I meditate – I've fallen off the mediation bandwagon on a couple of occasions, usually because I've gotten caught up in the whirlwind of schedules and have made the decision that "I don't have time" or "I'll do it later" only to never get to it. And, little by little, my meditation "practice" is more of a random occurrence and then before you know it I'm staring at the back of the meditation bandwagon as it pulls further and further away from me.
I recommitted to meditating at the beginning of December – thinking it was good timing with the holidays approaching, and for the most part I've been fairly consistent. I'm motivated to stay with it because I like how I feel and how I deal with things when I do. Now am I going to tell you I'm all roses and sunshine and the picture of zen? Nope – it is a work in progress, but I like the direction I'm headed.
I got an email the other day from the Chopra Center announcing another of their 21-day Meditation Challenges. The theme this time is "Perfect Health." I've found these challenges to be a great launching point for starting a practice and encourage anyone who's interested in giving meditation a try, to check this out – it starts on Monday, March 11th. (For the record I'm in no way affiliated with the Chopra Center – just a fan sharing the love 🙂 )
Do you meditate?