We've been in full holiday celebration mode for a week now around my house – soaking in time with family and friends. After all of the rushing around and planning, it's been great to be present in the moment and just enjoy the days as they've unfolded. It wasn't until late yesterday afternoon, curled up under a blanket nursing a sore throat that I really started to think about goals for 2013.
Looking back at the running goals I laid out in January, I'm happy to say that I hit almost all of them (the 10K PR still eludes me). I had a heck of a lot of fun this year with lots of highs:
taking the whole family along for a race in DC
getting to meet a bunch of runner/bloggers
serving as a ZOOMA race ambassador
getting away with my friend E for run and fun at ZOOMA Cape Cod
working with my running coach Bennett Cohen – learned so much!!
new PRs in the half marathon, 10-miler and 5K
ran over 900 miles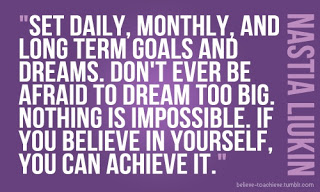 Now that I've had a little down time, I'm looking forward to kicking up my training for a half marathon in March (still debating which one!). So, what are some of my running/fitness goals for the upcoming year?
complete the 13 in 2013 Challenge— I think I've almost got the race calendar sorted out!
looking to shave some more time off my best times for both the half marathon and 10K (specific target times to come later) – I really need to find a flatter course for the half!
continue to do all of things that I believe helped to keep me off the injury-reserve list — yoga, strength training, massages and time with the chiro.
But, as always, the biggest goal is to continue to have fun — to run with friends, to run in some new locales, try an obstacle course race (or two), be a race volunteer, and have more blogger meet-ups!