The weather people started predicting rain last Wednesday…and well let's just say there's rain and then there's R-A-I-N! After worrying for weeks about preparing for hazy, hot and humid – I got a super soaker! Mother Nature definitely has a sense of humor 🙂
I was up and out by 5 to make the drive down to Providence. I realized over the past couple of days that I was far more wound-up for this race than I was my first half and I couldn't put my finger on why until that morning. With my first half, my goals were simply to finish, to finish strong and to have fun. Going into this race, I realized I was feeling a self-imposed pressure to PR. But every race is different right? In fact when I registered for this one I hadn't even run my first – I was just psyched to do an R'n'R race right in my backyard! So on the ride down I let go of the pressure – just gonna let go and run!
It was a continual downpour from start to finish but the bands, cheerleaders, some diehard spectators and fellow runners made for a fun race! And I loved that my family cheer squad was out in force again!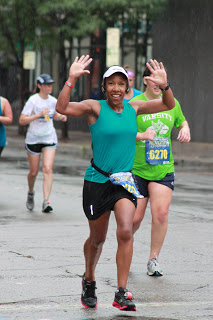 Running in sloshing sneakers was not even a little enjoyable – it really took me about the first 5 miles to find a rhythm. I had this crazy headache and felt like I was running in a bit of a haze – really odd. I took some GU chomps and water and started to feel much better.
By mile 8, I was feeling really good and when I spotted my family around 10 I was in good form and feeling pretty strong! I felt great as I crossed the finish line…um, who's idea was it to make the last 100 yds uphill?!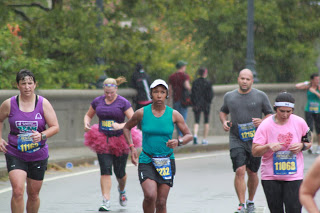 (This pic's not out of focus – that's rain!)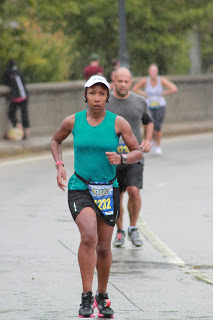 So my second half marathon in 10 weeks is done! And, while there was no PR, training in all kinds of weather conditions this year (and I do mean all – bitter cold, snow, rain and crazy heat), really helped me to have the mental toughness needed to get through this race. And I loved that I felt stronger the late in the race! All-in-all a good day!