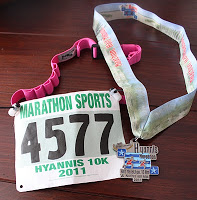 When I woke up to snow this morning, my first thought was "This is why you train in all kinds of weather – a treadmill can't prepare you for this!" My Hubs J and I quickly got ready, packed our gear, grabbed a bite and once the boys were settled in with grandparents we headed out to make the drive to the Cape.
As we got into Hyannis, we decided to avoid the madness of trying to find parking close to the race start and instead opted for a lot about a quarter mile away – gave us a nice little trot, warm up.  The lines at the porta-potties were crazy and slow but everyone around us at least was in good humor and we made the best of it. We made it to the start with no time to spare and were off.
For those of you who are not familiar with Cape Cod, to say Cape roads are narrow is a understatement! So narrow roads and slippery conditions thanks to the snow falling made for a little bit of a chaotic start. As we had planned, J and I ran the first mile together and then we separated — his goal was to finish in just under an hour. I was feeling pretty good at this point, there were some twinges in my left knee but nothing indicating the trouble to come. As the course turned along the water, I was still feeling good about reaching my goal of a PR. But then the dark mile came…the twinges in my left knee grew a lot more intense. I backed off and then tried to walk, but it actually felt worse to walk (does that make any sense?!?) so I started to run again. The mile markers were non-existent so I chatted with a couple of different runners who spotted my Garmin and asked for an update.
As I reached 5.5 miles, I decided to try to push for a strong finish. There was a great crowd at the end and I heard J cheering as I turned for the finishers chute. My brother had brought my oldest down to see the end of the race, so it was really great to see them both there!
Despite the snow and angry knee, it felt great to be back in a race. It was a great group of runners, scenic course, and a lot of fun to run with J in his first 10k! (For the record: J did hit his goal – I'm so proud of him! And I missed matching my previous 10k time by only 40 seconds!)