Work and family schedules continued to be chaotic this week, (I hope this isn't a trend!) but I was able to get a decent mix of workouts in.
Monday – Some much needed yoga.
Tuesday – Determined to not have a repeat of last week, I jammed a quick 2.8 miles in between work and school pick-up!
Wednesday – Strength day: legs and core.
Thursday – 3 miles. I finished with a sore knee and would be lying if I didn't say a tinge of panic set in. That evening, I went to my son's high school preview/open house, and after a tour of the campus with a constant stream of staircases, my knee was not pleased.
Friday – Strength day: legs and core. Lots of foam rolling.
Saturday – An icy rainy mix, meant a trip to the gym. Playing it safe, I opted for time on the Arc Trainer vs. the 'mill. Lots of foam rolling followed. I also iced my knee while I watched the Patriots beat the Chiefs 🙂
I'm happy to say when I headed to my son's hockey game this morning, my knee was feeling pretty good!
All-in-all, not a bad week – a good mix of this and that. The big lesson for me this week is that I'd probably do better to write out a strength plan. Up to now I've been kind of winging it when I hit the gym, but I think I'll get more out of these workouts with a plan. So this week I'll be digging out the workouts from my time working with the trainer and sketch out a more structured plan.
Do you follow a strength plan or do you wing it?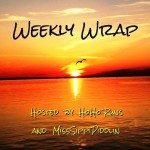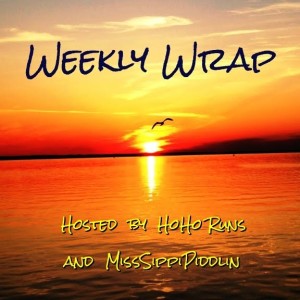 I'm linking up again with Holly at HoHo Runs and Tricia from MissSippiPiddlin for the #WeeklyWrap.  Be sure to check out the hosts (both just completed their first marathons!), along with the other great bloggers joining in on the fun!