The Frosty Virtual 5K/10K/Half was benefiting the American Cancer Society – a cause I was very happy to support.  I lost both my grandmothers to cancer and both of those amazing women were on my mind Saturday morning.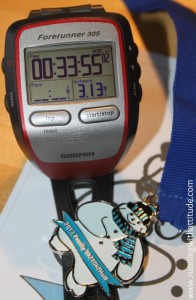 I stuck to my plan and got out early to run my 5K to beat the predicted snow storm and my son's hockey game – the snow turned out to be nothing, but it was fun watching my son have one of his best games in his team's win!
My running buddy E was heading out for 8 so we set out and ran the first mile together. I settled into a comfortable pace – not looking for a PR, just a good solid run and to enjoy a rare day of  no wind nor frigid temps.  Once I hit the distance, I decided to re-trace my route so I could get at least 6 miles in.
Thanks again to Jospehine over at Plant-based Runner for hosting this race.  She raised $1,000 for the American Cancer Society and even provided all of us with medals! She's got some other races planned so be sure to check her out her blog.
Week 2 of half marathon training is done, school vacation week is over and it's time to get more focused! Still in base-building phase, so this upcoming week looks like this:
Monday – 6 miles on a hilly route
Tuesday – Cross-training — Haven't decided what I'll do yet, but I may break out Jillian Michael's 30-day Shred
Wednesday – Rest
Thursday – 8 miles with 5 at tempo pace and my 2 hr killer yoga class
Friday – Rest
Saturday – 10 mile LSD
Sunday – More cross-training
I'm also still working on the 30-day ab/core challenge – just 15 minutes a day to build a stronger core. It looks like the weather gods should cooperate this week and I'm looking forward to staying off the 'mill and being outside!
What have you got planned for this week?