Hello Friday!
It's been another whirlwind week and I am looking forward to getting this weekend started! But first, I'm linking up again with Courtney, Mar & Cynthia. Today's topic is "5 ways to share running/fitness love." Since catching the running bug five years ago, I have enjoyed sharing my new passion with anyone willing to listen 😉 But nothing has made me happier than to be able to share my love of running with my family!
Let it be their idea! — I've shared before my tips for running with kids before, and by far, I think the most important one is to let it be their idea. If you do, they're more likely to stick with it!
Make it fun — Getting my family on the running bandwagon means keeping it fun. No thoughts of pace or crazy goals – especially in the beginning!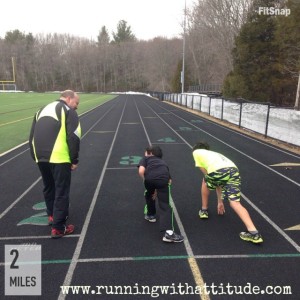 Mix it up — This is an extension on the idea of keeping it fun. We mix up where we run – sometimes it's a trail, sometimes it's the track, and other times it's around the neighborhood. Helping them to try running in different environments, keeps it interesting.
Cheer their efforts — When my husband J ran his first trail race, the kids and I hiked up to a clearing along the course and cheered he and his fellow runners on. The boys got a lot of high fives and had a ball!
Lead by example — Best way to share your love of running with your family is to invite them to be a part of your journey.  Share both the good and bad runs, and your big race goals – your enthusiasm and passion can be infectious.
Does your family share your love of running?