How is it Friday again already!? I feel like we're just streaking through this month!
Well today I am once again linking up with the Courtney, Mar and Cynthia, the DC Trifecta for their Friday Five link-up. This week's the ladies are asking everyone to share their "Five Reasons to…."
Now that I've returned to my weekly Pilates classes I cannot believe I ever stepped away from it! In my opinion there are many reasons to do Pilates – especially if you're a runner…but here are a few: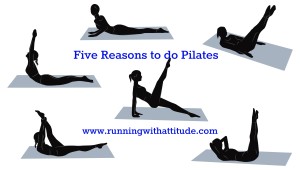 1) Builds Core Strength — Pilates focuses on strengthening your core muscles which is critical not only for runners, but really to perform any function.
2) Aids Muscular Balance —  The repetitive motion of running (or many other sports, like golf for example) can create muscle imbalances. Pilates' whole-body approach works to correct any imbalances and helps you to re-align your body.
3) Can be Adapted for Almost Everyone — With a wide range of exercises and modifications, Pilates offers something for everyone.  I can attest to the fact that I did Pilates all through my pregnancy with my youngest son – right up to a week before delivery! I've had both seniors and 20-somethings in the same class with me. I've also had friends who were injured who used Pilates as part of their PT.
4) Improves Posture — Pilates both strengthens and lengthens your spine, and with its focus on core strength and proper alignment, you will see an improvement in your posture.
5) Offers Mind-Body Awareness — My Pilates instructor is always emphasizing the importance of the total attention necessary to activate various muscle groups as you move through the various exercises. Pilates founder Joseph Pilates spoke of  "the complete coordination of body, mind, and spirit." Through Pilates key principles of centering, concentration, control, breath, and flow, Pilates believed that the mind and body work together to help the practitioner get the most out of each exercise.
Honestly, I could go on and on about the benefits of doing Pilates! I really love that it truly offers a full-body workout – building core strength while helping to develop long lean muscles, strength, balance, flexibility and an increased range of motion – what's not to love?!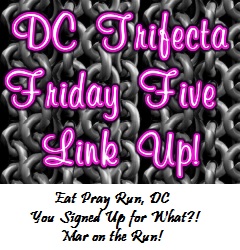 As always, please be sure to stop by and check-out the great ladies of the DC Trifecta and the others joining the link-up this week!