Sunday morning I ran my best 5K yet!
And there was no PR or great bling involved. The race itself was full of logistically glitches typical of a new race (mis-measured course, not enough porta potties…you get the idea).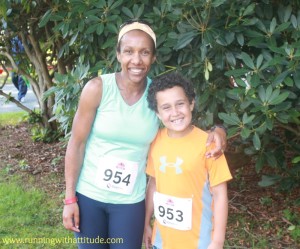 It was the best 5K because I got to run with my son as he completed his first 5K!
I watched him push himself to go further than he'd ever run before (and in very warm conditions!), watched him experience both the "I can't believe I'm about to do this!" moments, along with the "what if I can't finish" moments.
We had a great conversation along the way – none of which I'll share here…stays between Mom and son. Except that I will say about half way through he started talking about his next race – "it should be in the fall when it's cooler and I'll be better trained" – at that moment I knew that despite the heat and walk breaks, he was really enjoying himself!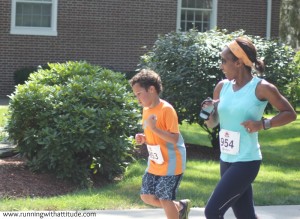 I especially loved seeing the look on his face when he knew the finish line was close and watching him sprint to the end! It was a proud mama moment for me from beginning to end – and I can't wait to do it again 🙂