Sunday morning I ran the Canton Fall Classic. After a couple of decent runs last week and a couple of days of rest, my left knee was feeling pretty good and I was looking forward to running. I was also looking forward to cheering on my friend E as she took on her first 5k!
It was a perfect morning for a race, just about 50 degrees and sunny. The beauty of a local race is we got to the race with plenty of time to check in, make one last pit stop and chat with several people before the kids fun run got started. Some people came dressed in costumes – I seriously don't know how they could run in those outfits!
The start of the race was a little congested – for the first mile the 5 and 10kers ran together. E had told me she was going to try to stick with me for as long as she could but was going to run her own race – always a wise choice!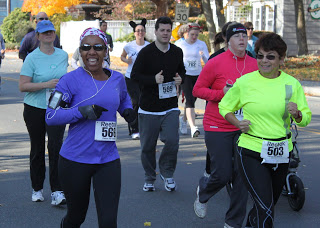 We passed our families about 1/4 mile in – I get such a lift seeing my hubs and the boys cheering!! The first mile went quickly and for mile 2 the 5k turned up hill. Actually it was a series of uphill climbs with a little down hill turn thrown in which allowed you a chance to regroup between climbs. All-in-all the hills were not too bad. At the end of the first mile, I had set my sights on a guy who seemed to be keeping a good pace – he was about two telephone poles in front of me and I just tried to keep him in range. By the end of mile 2 we were heading directly into the wind….not fun but knowing that the hills were done I knew it was pretty much a flat run to the finish. "4 Minutes" came up in my playlist and I started to pick up the pace — no matter how tired I feel that song always gets me going! I felt really good at the end and my watch read 33:17 as I came across the line – a new PR for me by 4 minutes and best of all no knee pain!
I grabbed a water, found my family and E's family and then headed back out to the final bend to wait for E to come through. She looked strong and was smiling as she came down the final stretch! She did a great job! We hung out for a little bit, catching up with different people we knew and then it was time to head for home and get on to a day of Halloween activities.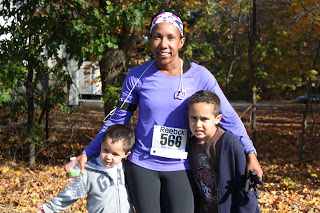 It was a fun morning and a race I will definitely run again!