We've seen temps in upper 80s and even 90 degrees this week and with the heat has come the humidity. Now while I promised after surviving the polar vortex nightmare that was this past winter that I wouldn't complain when summer arrived, I just have to say that I'm not a fan of running in heat and humidity. Yes I know…a challenge given how much I like the fall racing season!
So I'm joining Cynthia, Mar and Courtney and sharing some reminders for how to "beat the heat!"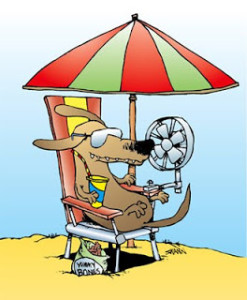 Hit the road early —  Quite simply, temperatures are much lower earlier in the day so why not get out before the sun's rays become too intense. This one is a must do for me!
Get acclimated — As you make the adjustment to running in warmer temps, this is not the time to get hung-up on hitting target paces. Take those first hot runs slowly, focusing more on effort than pace. Your body will adjust within a couple of weeks.
Stay hydrated – While participating in a recent #Runchat on Twitter, I was surprised by the number of runners who proclaimed not to carry any fluids with them when they run regardless of the distance. For long runs,  I get that not everyone loves carrying a handheld water bottle but there are other options – a camelbak, fuel belt or just strategically stashing water along your route. For shorter runs, at least make sure you hydrate well before and after your run. Drink according to thirst!
Avoid cotton — I've said it for winter running and the same holds true for summer – avoid running in cotton clothing! All cotton does is trap sweat, stay wet and potentially cause chaffing (which of course always begs the question why any race shirt is cotton?!). Stick to light-colored, tech apparel…and don't forget sunglasses and a hat or visor.
Be willing to head indoors — That's right…I said it! Sometimes, it's going to be just too dang hot to run – so be willing to switch things up. Either hit the treadmill or opt to make it a cross-training day — great days to head to an air-conditioned gym, yoga or Pilates studio, right? And if you've got access to a pool – lucky you!
Above all I think the biggest key to managing your workouts in the summer heat is to listen to you body! You can never go wrong with that approach, right?
How do you manage summer running?
For other tips, be sure to check out the DC Trifecta's link up!